Household Hazardous Waste
MAJOR CHANGE FOR THE 2022 SEASON.
We have closed our permanent facility in Essex. Instead of using that facility we will hold collections throughout the RiverCOG region. All dates and locations are open to all residents of the 16 participating towns (Chester, Clinton, Cromwell, Deep River, Durham, East Hampton, Essex, Haddam, Killingworth, Lyme, Middlefield, Middletown, Old Lyme, Old Saybrook, Portland & Westbrook).
Houshold Hazardous Waste – 2023 Schedule COMING SOON
Please note that we operate the HHW pop ups April through October of each year. The 2022 season has concluded. For the months of November through March please store your household chemicals in a safe place away from children and pets until we reopen the collection season in April. If you have latex or oil-based paints please visit www.paintcare.org to dispose of them with a local retailer. See you in the spring!
2022 Schedule
April 23, 2022 in Clinton: Clinton Public Works Garage, 117 Nod Rd., Clinton, CT
May 14, 2022 in East Hampton: East Hampton Water Pollution Control Authority, 20 Gildersleeve Dr., East Hampton, CT (just off Route 66)
June 18, 2022 in Old Lyme: Lyme-Old Lyme Middle School, 49 Lyme St., Old Lyme, CT
July 16, 2022 in Cromwell: Woodside Intermediate School, 30 Woodside Rd., Cromwell, CT
August 20, 2022 in Haddam: Haddam Elementary School, 272 Saybrook Rd., Higganum
September 17 in Middletown:  Middlesex Community College, 100 Training Hill Rd., Middletown, CT
October 1, 2022 in Haddam: Haddam Elementary School, 272 Saybrook Rd., Higganum
The River COG participates in regional recycling coordination and waste management, offering multiple household hazardous waste collections from April to October each year. Click here to view the 2022 HHW brochure.

Household hazardous waste collection sites are located in Clinton, East Hampton, Old Lyme, Cromwell, Higganum, and Middletown. Please visit the 2022 HHW brochure  for information on dates and locations of specific collections. All dates and locations are open to all residents.
Please read the NEW Covid-19 Procedures for HHW Collections as of May 30, 2020. This document includes important safety information.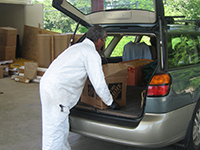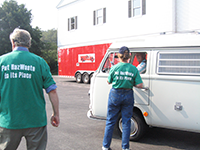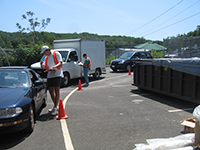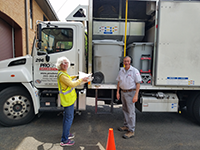 Guidelines for paper shredding:
Please limit to 5 bags or boxes approx. 9"h x 18"w x 12"d (about the size of a paper box).

Paper shredding is for residents' personal papers with sensitive information and is not for local businesses.
No junk mail, magazines, books, cards, envelopes, metal-ring binders, etc. will be accepted.
The State of Connecticut now offers disposal programs for some specific products.
The Paintcare program. You don't have to wait for an HHW event to responsibly dispose of your paint – click here for more information and disposal locations.

There is an electronic recycling program at participating transfer stations and/or electronic recycling events.

The State now has a mattress disposal program at participating transfer stations. You can find more information at www.byebyemattress.com.
There is also a Statewide recycling program.  For information about that program go to www.recyclect.com and learn "What's in What's Out and checkout the 'Recycling Wizard'.